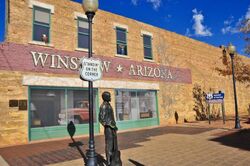 Standin' on the Corner Park in Winslow, Arizona is a public park, commemorating the 1972 song Take It Easy, written by Jackson Browne and Glenn Frey and performed by the Eagles. The place was referenced in the line "Well, I'm a-standin' on a corner in Winslow, Arizona, such a fine sight to see". The town took advantage of being mentioned in the song and Ron Adamson built a life-size bronze statue of Jackson Browne with a guitar, standing in front of a lamppost with the text "Standin' on a corner". As a result of the popularity of Take It Easy the park, which was opened in 1999 to the public, achieved national fame.
Ad blocker interference detected!
Wikia is a free-to-use site that makes money from advertising. We have a modified experience for viewers using ad blockers

Wikia is not accessible if you've made further modifications. Remove the custom ad blocker rule(s) and the page will load as expected.