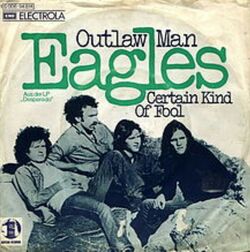 He was a poor boy, raised in a small family
He kinda had a craving for somethin' no one else could see
They say that he was crazy,
The kind that no lady should meet
He ran out to the city and wandered around in the street
He wants to dance, oh yeah,
He wants to sing, oh yeah,
He wants to see the lights a flashin' and listen
to the thunder ring
He saw it in a window
The mark of a new kind of man
He kinda liked the feeling, so shiny and smooth in his hand
He took it to the country and practiced for days without rest
And then one day he felt if,
He knew he could stand with the best
They got respect, oh yeah,
He wants the same, oh yeah,
And it's a certain kind of fool who
Like to hear the sound of his own name
Oo...
A poster on a storefront, the picture of a wanted man
He had a reputation spreading like fire throughout the land
It wasn't for the money, at least it didn't star t that way
It wasn't for the runnin' , but now he's runnin' everyday
Ad blocker interference detected!
Wikia is a free-to-use site that makes money from advertising. We have a modified experience for viewers using ad blockers

Wikia is not accessible if you've made further modifications. Remove the custom ad blocker rule(s) and the page will load as expected.